By Mark Simon
Saturday, the Cubs landed the biggest pitching prize of the free-agent market when they agreed to a six-year, $126 million deal with Yu Darvish.
The Cubs believe they added both quality and depth and a replacement for one of their top pitchers, Jake Arrieta. Darvish will slot in alongside Kyle Hendricks, Jon Lester, José Quintana and another new acquisition, Tyler Chatwood to form one of the top starting rotations in the majors.
Darvish had a 3.86 ERA and 3.83 FIP in 31 starts in 2017 and pitched well to end the regular season and in the LDS and LCS, before getting crushed twice in the World Series.
Let's take a closer look at where he stands at this point in his career and how he fits with the Cubs.
Question to keep in mind: Does he still have what made him good?
When Darvish was at his best (circa 2013 and 2014, when he had a 2.92 ERA in 54 starts), it was because he had a wipeout slider, a solid curveball, a challenging cutter and a nasty splitter among wide-ranging pitch arsenal. He dominated right-handed hitters and held left-handed hitters to below-average success rates.
Now, after Tommy John surgery sidelined him for all of 2015 and part of 2016, he's stopped throwing the splitter and cut back on his curveball. He threw the slider and cutter a combined 40 percent of the time last season, up from 28 percent the year before.
Darvish was still great against right-handed hitters in 2017, holding them to a .194 opponents' batting average, seventh lowest in the majors (among pitchers with at least 15 starts).
But against a reduced arsenal, left-handed hitters mashed his fastball and fared better than they ever had against him--a .262/.325/.453 slashline. When Darvish came inside to lefties last season, he got hit pretty hard, as this image shows.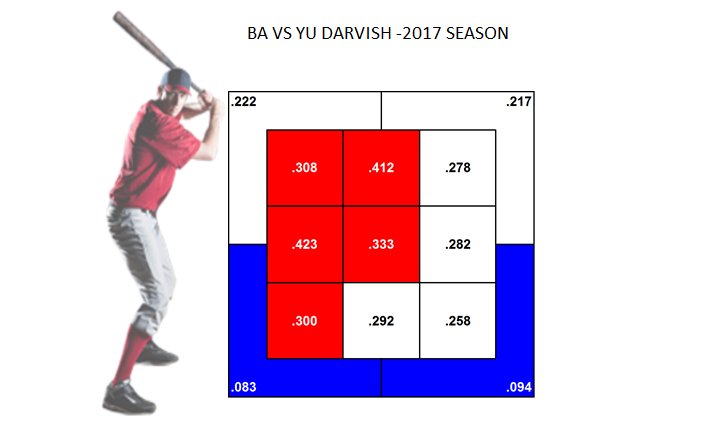 Taking advantage: Teams can run on him
Cubs fans are used to seeing opposing baserunners run on Lester, but now they'll see it in a different manner with Darvish. The volume of stolen base attempts won't be as great, but the success rate will likely be high.
Since 2014, Darvish has allowed stolen bases at a 96 percent clip (43-of-45). That's the highest rate of any pitcher who has allowed at least 40 steals in that span.
Darvish's issue is that it took him 1.70 seconds to deliver a pitch to the plate in 2017, three-tenths of a second above the major-league average for a right-handed pitcher.
"He lacks an efficient slide step," said one major-league scout. "He has a well below-average move to first base and has nothing that would make a good baserunner afraid. Even below-average runners can take advantage of the higher leg kick."
Something to watch: He's going to bounce pitches
Another thing for his catchers to keep in mind is that Darvish has twice ranked among major league leaders in wild pitches, including 2017, when he had 12.
The Cubs primary starting catcher, Willson Contreras, ranked 32nd in pitch-block success among the 66 catchers who had to block at least 250 potential wild pitches over the last two seasons, so he's average in this regard. He's used to this sort of challenge, having caught Arrieta, who led the NL in wild pitches each of the last two seasons.
On the plus side: This infield should help him
Though Darvish is not someone who yields a lot of ground balls, his infield defense should help him when he does allow one. The Cubs infield had the highest rate of turning ground balls into outs and tied for the MLB lead in Defensive Runs Saved in 2017. He should be pitching in front of that same group of defenders (Anthony Rizzo, Javier Baez, Addison Russell and Kris Bryant, with Ben Zobrist available to fill in) in 2018.
Projection: Prognosis positive
Despite some of the issues we pointed out, the Bill James projection system likes Darvish heading into 2018. It tabs him for a 3.42 ERA, 10.2 baserunners per 9 innings and 223 strikeouts in 192 innings. The projection system aligns with the Cubs' belief that Darvish's track record will win out as he moves forward into this new phase in his career.
Mark Simon is a senior research analyst at Sports Info Solutions. He recently started there after spending nearly 16 years as a researcher at ESPN.