Much has been made about Mike Trout's improved defense this year. After costing the Angels six runs in center field last season, he's already saved them seven runs in 2018. That 13-run turnaround is tied for the fourth-largest improvement among players who played at least 500 innings at the same position in both seasons.
It's not unprecedented from Trout, who saved 21 runs in center field in his first full season in the majors, but many of the other biggest improvers in DRS are experiencing this kind of success for the first time. Let's take a look at some of them and how they've turned things around.
Kyle Schwarber, Chicago Cubs, LF
Schwarber has saved the Cubs eight runs this season in left field, an improvement of 17 runs over his total from last season. Much of that is due to his newfound athleticism, but his strongest asset has been his arm, which has saved the Cubs an MLB-leading six runs.
Schwarber leads MLB with six kills (assists without a cutoff man) this season. He's also allowed baserunners to take an extra base just nine times in 41 opportunities, the lowest rate of advancement allowed among outfielders with at least 30 opportunities. Runners are now wary of testing Schwarber, and when he's making plays like this, it's not hard to understand why.
Freddy Galvis, San Diego Padres, SS
Despite being recognized as a finalist for the NL Gold Glove each of the past two seasons, Galvis had actually cost the Phillies 10 runs over his career at shortstop coming into this season. That's certainly not bad enough to play himself out of the position, but there was always room for improvement.
It turns out a change of scenery was exactly what he needed, as Galvis has saved 11 runs this season, tied for second at the position. Much of that is due to his play on balls hit in the shortstop–third base hole, where he's made 17 plays more than would be expected from an average fielder, best in the majors. If he keeps this up, his case for a Gold Glove will be stronger than it has ever been.
Dansby Swanson, Atlanta Braves, SS
Just as it was for Galvis, reaching balls in the shortstop–third base hole has been crucial to Swanson's defensive turnaround. He's been seven plays better than the average fielder on those balls just one year after being 22 plays below average.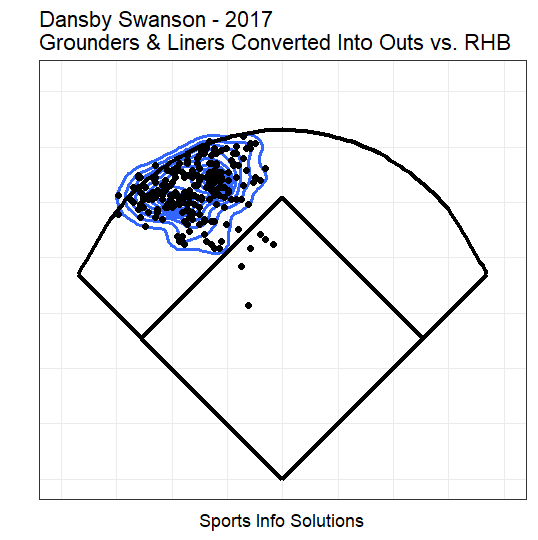 That's only part of the explanation, though. Swanson's also cut down on his mistakes, as his 10 combined Defensive Misplays and Errors (DME) this season are the fewest among shortstops with at least 500 innings. Compare that to his 42 DME in 2017, which were tied for the third most.
Trea Turner, Washington Nationals, SS
After starting his major league career playing a combination of second base and center field, Turner returned to his natural position of shortstop in 2017, costing the Nationals three runs. So far this season, he's saved nine runs, tied for fourth at the position.
Turner's improvement has been more balanced than that of Galvis or Swanson, as he's improved on balls hit toward either hole as well as on balls hit at him. He's one of only two shortstops among the 22 with at least 500 innings to be above average on balls hit to each of those locations. The other is Andrelton Simmons—certainly not the worst company to be in.
(Visualization courtesy of Andrew Kyne)