Hundreds of baseball industry types and statistically-inclined fans descended on Phoenix this past weekend for the 2019 SABR Analytics Conference. It was two-plus days of former players, analysts, industry professionals, and students discussing the state of analytics in the game and presenting new research to push the conversation forward.

For this week's Stat of the Week, we wanted to give everyone a rundown of some of the presentations Baseball Info Solutions (BIS) was a part of and other particularly interesting items from the conference.

BIS was front-and-center early on, with your friendly neighborhood stat purveyor, John Dewan, appearing on a panel about the state of analytics with former major leaguer Eduardo Perez and prolific writer Rob Neyer. The focus was on how the adoption of analytics has progressed both from a public and an industry perspective.

The next presentation came from BIS analyst Brian Reiff, who talked about the company's efforts to evaluate strategic outfield positioning and shifts. Previous Stats of the Week have touched on the subject, and Brian showed some of that research, specifically that the number of outfield shifts has doubled since 2016 and teams are having success shifting their outfielders against hitters with imbalanced tendencies.

Another BIS-er, Andrew Kyne, gave the last presentation on Friday. He described the upcoming changes to the Defensive Runs Saved calculation to take the outfield wall into account when evaluating a play's difficulty. Over the last three years, the biggest gainers from this change include Mike Trout and Fenway denizens Jackie Bradley Jr. and Andrew Benintendi.

MLB's Mike Petriello appeared on multiple panels with other names you might recognize. The first was called "Keeping Data Flowing," and it featured Joe Rosales of BIS and Kyle Boddy of Driveline Baseball discussing how front offices, players, and coaches are keeping up with the latest advances in analytics and maintaining communication.

The second was called "Use of Analytics in Broadcast Media," which was a partial reunion of the Statcast-driven broadcast of the NL Wild Card Game that featured Eduardo Perez and White Sox broadcaster Jason Benetti (who was unable to make it for the panel). There are a half-dozen more such broadcasts coming this season, which should be a really exciting development in the 2019 season.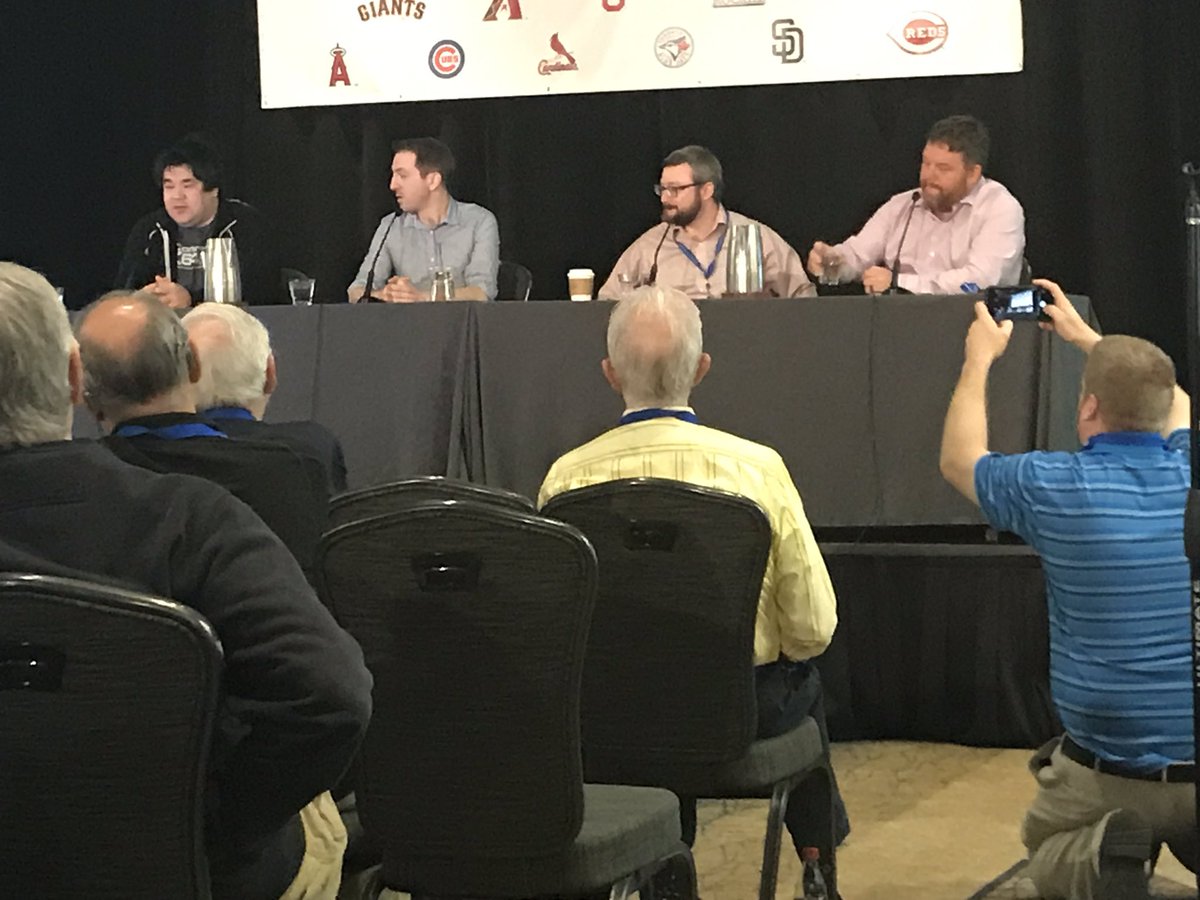 The "Keeping Data Flowing" panel, featuring Kyle Boddy, Mike Petriello, Joe Rosales, and moderator Mike Ferrin

There was a lot of pitching discussion over the weekend. Rohan Gupta used pitch characteristics to characterize and evaluate pitchers' repertoires. Vince Gennaro and Kevin Antonevich took different approaches to the question of pitch sequencing, with Vince investigating how sequencing affects batted ball outcomes and Kevin looking at its effect on swinging strike rate. A couple of presentations required a bit more physics education: Glenn Healey used an estimate for the amount of "useful" spin on each pitch to compare pitcher repertoires, and Ayane Kusafuka assessed how changes in the way a pitch is released affect location and control.

Lastly, there were a couple more presentations that our group took particular note of. Alan Nathan used physics to reverse engineer a hitter's swing plane from his batted ball trajectories, and a few Tufts University students (Clinton Hausman, Michael Shames, and Bradley Waddell) proposed some revolutionary fielder alignments that would optimize the way defenses handle hitters without caring about where players traditionally stand. Forget four-man outfields, we're talking four-man left fields (against Brian Dozier, at least).

The slides and audio from these presentations will eventually be up on the SABR website, so check back there to find out more about all of the fun content that came out of the conference!