By Mark Simon


The PETCO Park scoreboard likes to show fun facts along with the headshots of Padres players. These can be performance-related or information on off-the-field interests.
When it comes to Padres catcher Austin Hedges, the scoreboard operators know what to put beneath his headshot, arms folded with an outward glare.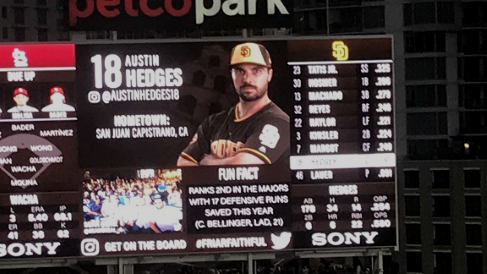 They might add one other piece of information:
Hedges is the Sports Info Solutions Defensive Player of the Month for June. He edged out Marlins shortstop Miguel Rojas and Diamondbacks shortstop Nick Ahmed in the voting.
Hedges joined Brewers center fielder Lorenzo Cain (March/April) and Dodgers right fielder Cody Bellinger (May) as winners this season. Bellinger leads the majors with 21 DRS. Hedges is now at 20 having added three Runs Saved since that picture was taken last Friday.
Hedges' eight Defensive Runs Saved were the most for any catcher in June and matched Ahmed for the most by any player at any position. Those were largely a product of one area, pitch-framing, in which Hedges has been outstanding this season.
Hedges leads all catchers with 12 Strike Zone Runs Saved this season. Tyler Flowers (7) and Buster Posey (6) are the only catchers even halfway to Hedges' total.
The advantage with Hedges comes in his ability to get strike calls on taken pitches that are just off the plate. He's gotten strike calls on an MLB-best 31% of takes that are not in the strike zone, but within two inches of a strike zone edge. League average is 23%. The difference between the two is about 118 extra strikes gotten by Hedges.
In fact, Hedges is averaging nearly one such strike call per inning caught.
Compare Hedges with fellow Padres catchers Francisco Mejia and Austin Allen and the differences are stark regardless of which pitcher you look at. In total, Padres pitchers have a 3.97 ERA and 3.8-to-1 strikeout-to-walk ratio with Hedges, compared to a 5.77 ERA and 2.8 strikeout-to-walk ratio with Mejia and Allen.
The way Hedges is going, the Padres scoreboard operator may have something fresh to note next year. Perhaps the fun fact will be "Austin Hedges won a 2019 Fielding Bible Award." He's certainly the favorite at the season's midpoint.
SIS has relaunched FieldingBible.com to be your source for defensive metrics and information. The site features daily updates of player stats, provides background on how our stats are collected and calculated, and includes a list of winners of the Fielding Bible Awards for defensive excellence.