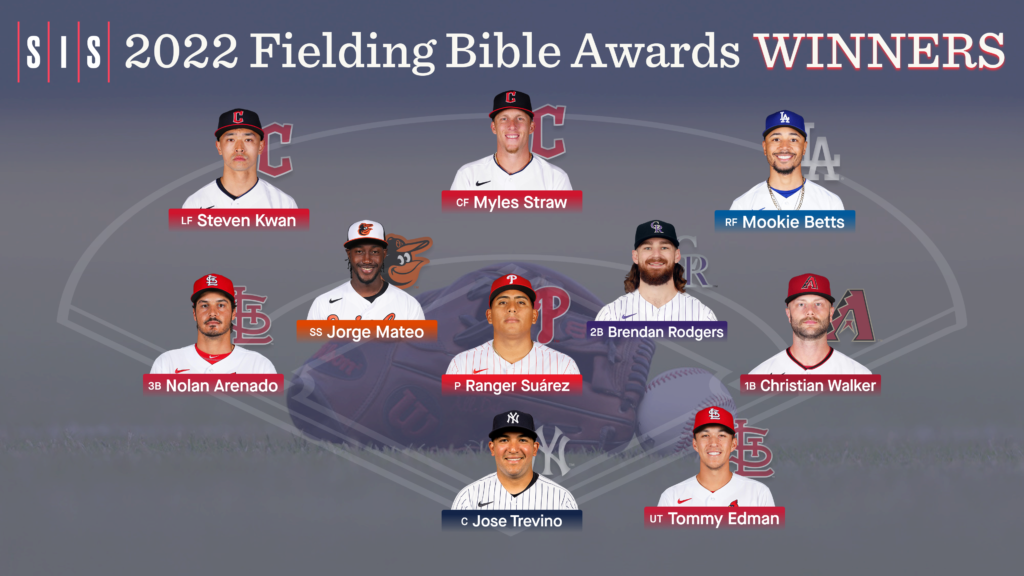 SIS is pleased to announce the winners of the 2022 Fielding Bible Awards. This marks the 17th season that we have honored the best defensive players in MLB. The awards are voted on by a panel of experts who consider statistical analysis, the eye test, and any other factors that they wish to consider.
Here are this year's winners:
Christian Walker was the runaway leader in Defensive Runs Saved at first base with 17, the most by a first baseman since Joey Votto had 18 in 2017. Walker dominated defensively with outstanding range and was the only first baseman to convert more than 50% of opportunities on balls hit to his right into outs. He joined Paul Goldschmidt as the only Diamondbacks first basemen to win the award (he won in 2013, 2015, and 2017).
Brendan Rodgers led all second basemen with 22 Defensive Runs Saved. It was quite the improvement from 2021, in which he finished with -5 Runs Saved. Rodgers won with an aggressive style, leading all second basemen with 19 diving plays. He's the second Rockies second baseman to win, joining DJ LeMahieu (2017).
Jorge Mateo was instrumental to the Orioles resurgence, finishing a close third among shortstops with 14 Defensive Runs Saved and tied for second in Good Fielding Plays with 28. He led all shortstops by converting 72% of his double play opportunities. He's the first Orioles shortstop to win the award.
Nolan Arenado won his fifth Fielding Bible Award, the most by a third baseman. He's one shy of Andrelton Simmons and Yadier Molina for the most Fielding Bible Awards won. Arenado's 19 Defensive Runs Saved ranked second among third basemen and were a 13-run improvement from 2021. He's the first Cardinals third baseman to win the award.
Steven Kwan was the only unanimous winner of a Fielding Bible Award this year. He easily led all left fielders with 21 Runs Saved and his 20 Good Fielding Plays tied for the left field lead. Kwan's 19 Range Runs Saved in left field were more than any outfielder had at any one position. Kwan is the first Guardians player to win the award for left field and the 4th rookie to win, joining Troy Tulowitzki (2007), Mike Trout (2012), and Ke'Bryan Hayes (2021).
Myles Straw led all center fielders with 24 Good Fielding Plays and 7 Outfield Arm Runs Saved. He's the first Guardians center fielder to win the award. Straw and Kwan are the first Guardians outfielders to win a Fielding Bible Award since Franklin Gutierrez won as a right fielder in 2008.
Mookie Betts won his fifth Fielding Bible Award, one shy of Andrelton Simmons and Yadier Molina for most overall. He led right fielders in the range component of Defensive Runs Saved. His 15 Runs Saved in right field were an 11-run jump from 2021.
Jose Trevino led all catchers with 21 Defensive Runs Saved. He was the premier catcher in our pitch framing stat, Strike Zone Runs Saved, and rated above-average in both pitch blocking and limiting stolen bases. Trevino is the first Yankees catcher to win a Fielding Bible Award.
Ranger Suárez led all pitchers with 9 Defensive Runs Saved. Not only was Suárez good at coming off the mound to make plays, he didn't allow a stolen base all season (in fact, there were only two attempts!). Suárez finished second on the Phillies in Runs Saved, trailing only batterymate J.T. Realmuto, who had 11. Suárez is the first Phillies pitcher to win a Fielding Bible Award.
Tommy Edman ranked third with 12 Defensive Runs Saved at second base, while playing far fewer innings than the players who ranked No. 1, 2, and 4. On a per-inning basis, he had the second-fewest misplays at second base and the fewest at shortstop. He's the first Cardinals player to win the multi-position award, which was first awarded in 2014.
Close races were a theme this year, with four positional awards decided by 11 or fewer points in the voting. The closest was at third base, where Arenado nosed out Ke'Bryan Hayes by two points, and shortstop, where Mateo topped Miguel Rojas by a similar margin. Straw beat Michael A. Taylor by eight points in center field. Betts won by an 11-point margin over Kyle Tucker.
As noted above, Andrelton Simmons and Yadier Molina have won the most Fielding Bible Awards (6). Albert Pujols, Nolan Arenado, and Mookie Betts each have 5.
Also of note: In seven of the 10 wins, it marked the first time a player from that team won at that position.
The 2022 awards were determined by a panel of 15 baseball experts, who ranked the top 10 players at each defensive position (including a spot for multi-position players) on a scale from one to 10 at the conclusion of the regular season. A first-place vote gets 10 points, second-place gets nine points, third-place gets eight points, etc. Total up the points for each player, and the player with the most points wins the award. A perfect score is 150 points.
Our voting panel consisted of SIS chairman John Dewan and baseball stat pioneer Bill James, along with Emma Baccellieri (Sports Illustrated), Dan Casey (SIS), Chris Dial (sabermetrician), Alyson Footer (MLB.com) Peter Gammons (The Athletic), Moses Massena (MLB Network), Eduardo Pérez (ESPN), Hal Richman (Strat-O-Matic), Travis Sawchik (The Score), Bobby Scales (SIS), Joe Sheehan (longtime writer), Mark Simon (SIS), and the SIS Video Scout staff.
"So much of baseball is evolving, but one thing that never changes is the value of defensive excellence," said SIS co-founder, now special advisor John Dewan. "This year's Fielding Bible Award winners are impressive, dedicated, and well-deserving. Congratulations to all of our honorees."
A complete list of ballots and the history of the Fielding Bible Awards (which began in 2006) can be found online at FieldingBible.com and in The Bill James Handbook 2023, which is available at ACTASports.com.